Recipe by Erin Eastland
Photos by Amy Sheridan
With all of the protein heavy dishes that you'll have strewn about your smorgasbord you'll probably be looking for a little green relief. That said, understand that K.O.'s limits aren't stunted by the presence of vegetables. So, if you're looking for something vegetal to pair with those K.O. Chicken Wings or the K.O. Ketchup Meatloaf, aim for this Wedge Salad Recipe with Blue Cheese to add a little variety to your meal.
Wedge Salad with K.O. and Blue Cheese Dressing
Prep Time 10 minutes
Cook Time 10 minutes
Total Time 20 minutes
Ingredients
SALAD

:

2 heads of iceberg lettuce, outisde

layers removed

1/2 lb thick cut

bacon, sliced into 1/2 in. strips

1 lg or 1 small

tomatoes

chopped chives

to garnish

DRESSING

:

1/2 cup

creme fraiche

1/2 cup

mayonnaise

1/4 cup

buttermilk

2 oz. blue cheese,

such as buttermilk blue

1 Tbsp.

ciger vinegar

2 Tbsp.

K.O. ketchup

1 tsp.

minced shallot

1/2 tsp.

salt

Directions
Cook the bacon until crispy and drain on a paper towel.
Reserve fat for another purpose.
In a medium bowl whisk together the creme fraiche, mayo, buttermilk, vinegar, KO, shallot and salt.
Crumble the cheese into the dressing and use the whisk to mash into the dressing to incorporate.
Taste and adjust seasoning if necessary.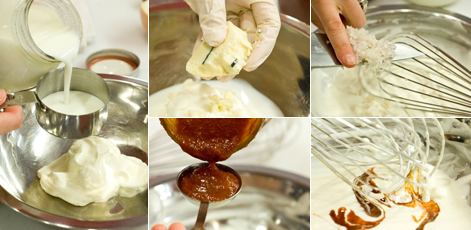 Slice the iceberg into wedges and arrange on a platter, pointy side up.
Chop the tomatoes.
Spoon a good amount of dressing over each wedge and garnish with the crispy bacon, diced tomatoes and chopped chives.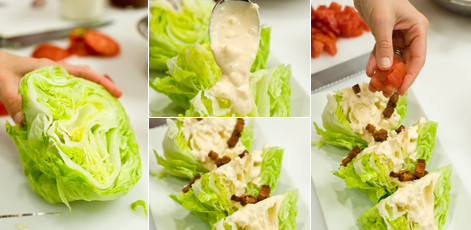 Enjoy!