Recipe by Erin Eastland
Photos by Amy Sheridan
Why do we love meatloaf? Well, 2 main reasons…
1) it's super easy to make, and 2) it can last us for the whole week.
We make a loaf on Monday for dinner and enjoy it along side a few spears of seared Asparagus and a pint of Chimay White. Then Wednesday rolls around and we haven't packed a lunch for work so we cut a slice, shove it between a Hawaiian roll, brown bag it and hit the road. Then on Friday we saunter home from the gym and are in dire need of some post-workout protein so we cut a corner and toss it with some lentils into the microwave for 45 seconds -BAM, ultimate buffness. But not only is it super convenient and versatile, with this K.O. Ketchup sauce it actually tastes awesome too.
Let us reclaim the Meatloaf from uninspired mom-kitchens everywhere.
Homemade Meatloaf with K.O. Ketchup
Prep Time 20 minutes
Cook Time 50 minutes
Total Time 1 hour, 10 minutes
Ingredients
1 ¼ lbs

ground beef, about (not too lean)

¾ lb

ground pork

½ cup

KO, plus ¼ cup more to top

½

medium sweet onion, small diced

3

cloves garlic, minced

2 oz

white bread (about 2 sandwich slices worth), crusts removed and torn or cubed into pieces

½

cup milk

⅓ cup

finely grated parmesan cheese

2

eggs, lightly beaten

¼ cup

chopped parsley

½

tsp salt

2

TBS olive oil

Directions
Preheat oven to 375.
In a medium saute pan, heat the olive oil and saute the onions until soft over medium heat, about 8-10 minutes.
Add the garlic, cook another minute, let cool.
In a small bowl, add the bread and cover with milk.
Press the bread into the milk with your hands to make sure all the bread is soaking, add more milk if your bread is not fully soaking.
Let set for 5 minutes, then squeeze out the excess milk and break up the soaked bread into tiny bits.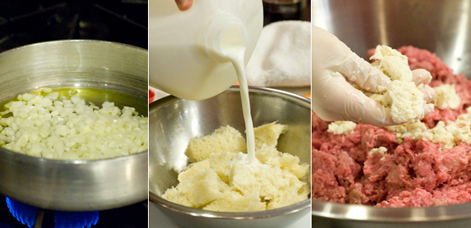 In a large bowl mix together the beef and pork.
Add ½ cup of K.O., the soaked bread, onions and garlic, parmesan, eggs, parsley and salt.
Using your hands mix the meatloaf up very well, making sure to incorporate all the ingredients.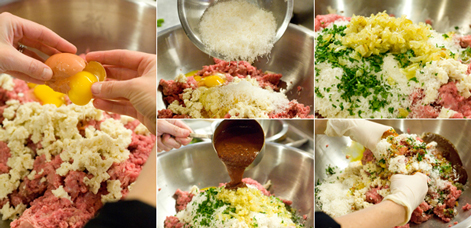 Test the mixture by cooking a small sample in a pan.
Adjust any seasoning.
Spray or lightly oil a standard 9×5 loaf pan and fill with the mixture. It should come about ¾ way up the pan.
Place the loaf pan on a baking sheet and bake for 20 minutes.
Take the meatloaf out and spoon the remaining ¼ cup of K.O. on top and spread to the edges.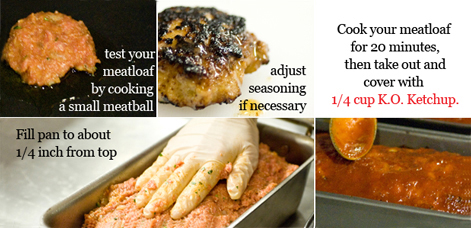 Continue baking another 30-35 minutes or until a thermometer inserted into the center reads 155 degrees.
Let the meatloaf rest about 10-15 minutes before removing from the pan.
Slice and serve warm as an entree or try instead of mini burgers for a killer slider!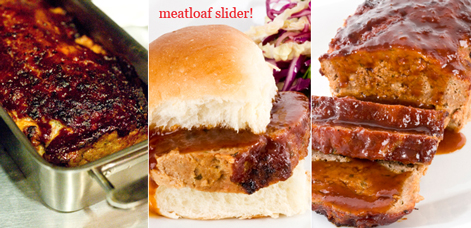 More K.O. makes it even better!