Recipe by Erin Eastland
Photos by Amy Sheridan
What? ketchup with duck?
Yes, it can be done… we told you that this wasn't just any ordinary ketchup. Because of K.O. Ketchup's unique flavor profile it lends particularly well to pairing with sweet and savory flavors. It's the perfect base for a unique, homemade sweet and sour sauce that you can pretty much use on anything from chicken to beef, duck to veal. In this case we simply added a bit of orange (the sour) and honey (the sweet).
Sure, you might not be eating this recipe on game day but sometimes the occasion calls for something a bit classier, and once again, K.O.s got you covered.
Dig this? Try K.O. as a BBQ Sauce in this K.O. ketchup Rack of Ribs Recipe.
KO orange glazed duck breast
Prep Time 10 minutes
Cook Time 20 minutes
Total Time 30 minutes
Ingredients
DUCK

:

4 skin-on

duck breast

1 Tbsp

olive oil

salt and pepper

to taste

SAUCE

:

1 cup

orange juice

1/2 cup

blood orange juice

1/4 cup

cider vinegar

1/4 cup plus 1 Tbsp

honey

1/8 cup

K.O. Ketchup

1/2 fresno chili,

sliced

1 small leek, only whites used,

sliced

1 clove garlic,

chopped

1 1/2 tsp.

minced fresh ginger

3/4 tsp.

salt

1 Tbsp

olive oil

1 tsp.

duck fat
Directions
Start the sauce in a saute pan.
Heat the pan over medium heat and add the olive oil.
Sweat the leeks, chili, garlic and ginger until soft but no color, about 4-5 minutes.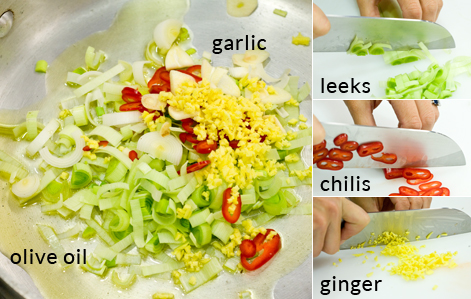 Add the juice, vinegar, honey, and K.O. and cook about 10 minutes or until the sauce is thick and bubbly like a glaze.
Add the salt.
Remove from heat, strain through a sieve and let the glaze chill in the fridge to set.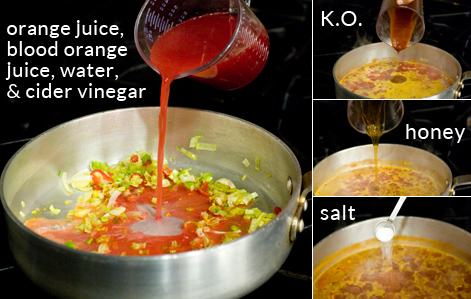 *You will drain off the fat ½ way through cooking the duck and add 1 tsp of the fat to the glaze.
While the sauce is cooking start the duck
Heat a heavy bottomed saute pan and coat with olive oil.
Score the duck, being careful not to slit the flesh.
Season the duck well on both sides.
Cook the duck skin side down over medium heat until all of the fat that is rendered out and the skin is very crispy and brown, about 10-15 minutes.
Flip the duck and depending on how big the breast is you will only cook on this side for 2-3 minutes. You want the duck medium rare.
Let rest about 5 minutes.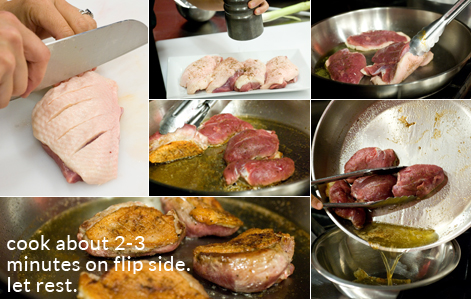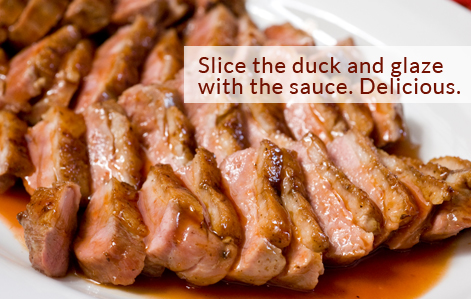 Slice the duck and glaze with the sauce. Serve immediately.