tri-tip
Prep Time 20 minutes
Cook Time 2 hours, 30 minutes
Total Time 2 hours, 50 minutes
Ingredients
TRI-TIP

:

2.5 lbs

tritip

1 cup

K.O. Ketchup

12 oz. lager

(such as Sam Adams)

1 thinly sliced

sweet onion

4 cloves

garlic

1 1/2 tsp.

worcestershire sauce

4 bay

leaves

2 Tbsp

olive oil

salt and pepper

to taste

PEPERONATA

:

1 each red and orange peppers,

sliced into 1/4 inch strips

1 frescno chili,

sliced and seeds removed

1 medium sweet onion,

sliced

1 large heirloom tomato

or 8 oz. can san marzano tomatoes, diced

4 cloves garlic,

quartered

1 tsp.

espeiette

4 Tbsp

olive oil

1/2 cup

water

salt and pepper

to taste
Directions
Preheat oven to 325 degrees F.
Heat a cast iron dutch oven pan.
Season the tri-tip well with salt and pepper.
Sear the meat very well on all sides.
In a large bowl, mix the beer, K.O. Ketchup, Worcestershire sauce, and garlic.
Add to the pot with the seared tiptip.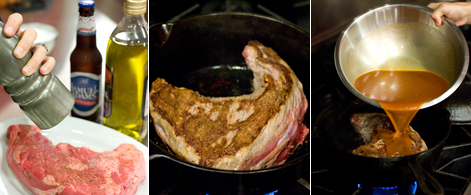 Add sliced onions and bay leaves to the pot. Make sure most of the onions are on top of the meat when baking.
Cover and bake for 1 and a half hours.
Open the pot, flip the meat and redistribute onions.
Bake an additional hour.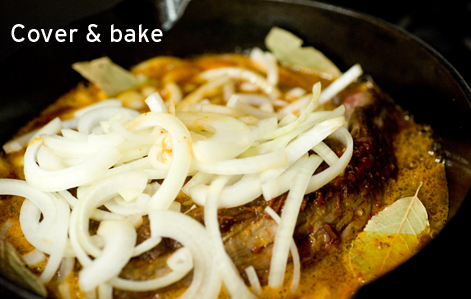 Make the peperonata:
In a large saute pan heat the oil.
Add the sliced onions, peppers and garlic and cook over medium heat until everything is soft, about 20-30 minutes.
You may need to add the water a couple tablespoons at a time to keep it from drying out.
Add the tomatoes and espelette and cook another 10 minutes until they have broken down and the peperonata is done.
It should be slightly saucy and the vegetables should be soft.
Season and keep warm.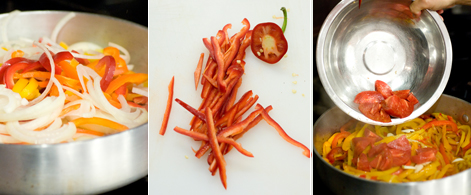 Remove the triptip from the oven, take the meat out and let cool/rest for 15 minutes.
Remove the bay leaves from the sauce, transfer to a blender and blend until smooth.
Adjust seasoning. It should be thick.
Slice the tritip AGAINST the grain into thin slices, like you would a brisket or flank steak.
Distribute the meat onto the rolls, top with the sauce and peperonata and serve warm.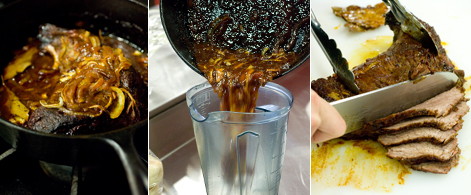 Perfect for game day or sunday BBQs!