Recipe by Erin Eastland
Photos by Amy Sheridan
Sure, baked potatoes are great. Put them next to some steak and green beans and you've pretty much got the most typical American dinner in all of our history. Twice baked potatoes, though, now that's a big improvement. You bake em, mash em, and bake em again? Genius. But wait the excitement doesn't need to stop there…
Introducing K.O. Ketchup infused, twice baked potatoes! Feel free to pepper them with anything that you prefer (sour cream, cheese, bacon bits), but we promise you that the KO is a flavor addition that will not go unnoticed.
KO Twice Baked Potatoes
Prep Time 10 minutes
Cook Time 1 hour, 15 minutes
Total Time 1 hour, 30 minutes
Ingredients
5 medium russet potatoes,

washed and dried

1/2 cup of salt,

plus more for seasoning

1/4 cup

K.O. Ketchup

1 - 1 1/4 cup

buttermilk

2 Tbsp

butter

2 Tbsp thinly

sliced scallions

1 medium heirloom tomato,

small diced

2 oz sharp cheddar,

grated
Directions
Preheat oven to 375 degrees F.
Use a paring knife to lightly pierce each potato all over.
On a small baking sheet spread ½ cup of salt all around and set the potatoes on top.
Bake for about 45-55 minutes or until the potatoes are soft and a knife is easily inserted into the center.
Let cool until you can safely handle them but make sure they are still hot.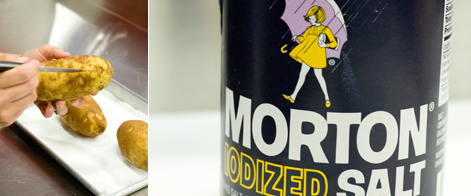 Hold a clean dry dish towel in your hand and use it to handle the hot potato.
Slit the top longways, but don't go fully end to end or it will be too big of an opening.
Pinch the ends to open the slit and carefully scoop out the potato into a bowl.
Leave a ½ inch wall of potato around the skin so that it has some stability.
Heat the buttermilk slightly.
Once the potatoes are all scooped out, add one cup of the buttermilk, butter, KO, salt and pepper and mash with a potato masher or whisk.
Adjust the seasoning and add more buttermilk if necessary.
Use a spoon to fill each potato skin, be sure to use all the filling.
Evenly distribute the grated cheese on top and bake another 10-15 min until the potato is hot and the cheese is lightly browned.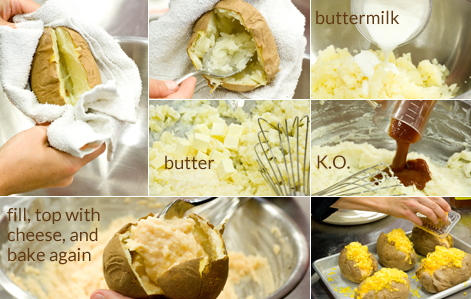 Top with the diced tomato and scallions.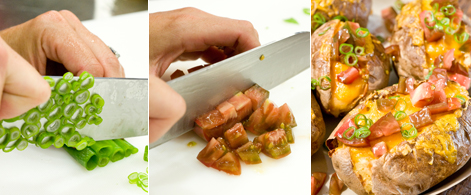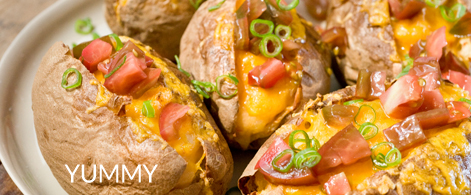 Enjoy!