Alrighty folks, in honor of football season and the slew of Sunday feasts that accompany it, we here at K.O. Ketchup are proposing a little challenge to all of our friends and fans. Every Sunday you will be eligible to win a free bottle of K.O. Ketchup simply for snapping a photo.
Here's How:
1. Snap a Pic
If you're like us, the joy of Sunday Funday isn't just about the football… it's also about the food. Take a picture of one of your favorite game day recipes that you think "Could Use Some K.O." We're looking for creativity so don't even think about putting up a hot dog. Also, feel free to post more than 1 photo to raise your chances at winning.
2. Post to Instagram
Post your photo to Instagram (don't have Instagram? Download the App on your smartphone for free or get it here).
3. Tag It
Make sure to tag @KO_Ketchup and #CouldUseSomeKO.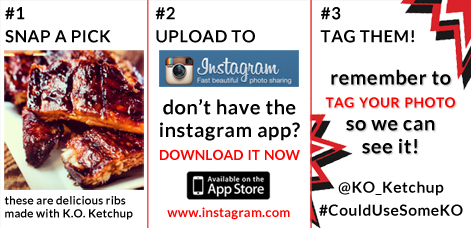 Don't forget to check back here on Monday to see the winning photo. We will also be contacting the winners via Intagram by leaving a comment on the winning photo.