Recipe by Erin Eastland
Photos by Amy Sheridan
It's time to remix those meatballs everyone. Store bought tomato sauce can be so boring and homemade can just be too time consuming. Try this Turkey Meatball recipe with K.O. Ketchup sauce to give a simple and updated twist.
Stick with a toothpick and serve as a tasty appetizer or on your favorite soft rolls for a killer meatball sub. They're also great for pasta with a kick or as BBQ option with cornbread. We know we don't have to say it, but the kids will love em' too.
KO Turkey Meatballs
Prep Time 30 minutes
Cook Time 2 hours
Total Time 2 hours, 30 minutes
Ingredients
MEATBALLS

:

1.5 lb ground

turkey meat

1/2 cup

grated parmesan

1

egg

2/3 cup

K.O. ketchup

3 Tbsp

chopped parsley

1 Tbsp

chopped sage

1/2 onion,

diced

3 cloves garlic,

minced

1/8 tsp.

salt

1/2 cup

flour

6 Tbsp

olive oil

SAUCE

:

2 cans san marzano

cherry tomatoes

1/2 cup

K.O. ketchup

salt and cracked

pepper to taste

Directions
Saute the onions in 2 Tbsp olive oil until soft and light brown, add the garlic and cook another 2 minutes.
Remove from the heat and let cool.
In a large bowl mix together the turkey, egg, parmesan, KO, parsley, sage, salt and cooked onions and garlic.
Use a small ice cream scoop or two spoons to form 1-2 ounce balls on a cookie sheet.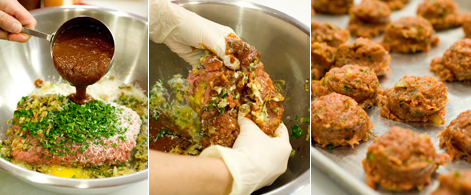 You will get about 20-25. They will be soft so put the tray in the freezer for 15-20 min to firm them up and make them easy to handle.
Once they are firmer, sprinkle the flour over them and use your hands to roll them in the flour.
Heat a large saute pan with the remaining olive oil and brown the meatballs.
If they do not all fit with a little room to spare in the pan do this in two batches in order to allow them to brown properly.
Hold the 2nd batch in the freezer to keep them cold.
Brown the meatballs on all sides.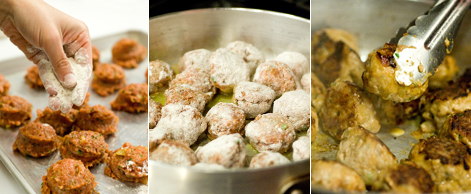 While the meat is cooking, empty the two cans of cherry tomatoes (we use La Bella San Marzano Italian Cherry Tomatoes in Tomato Puree with Basil) into a bowl and crush them with your hands.
Add the KO to the crushed tomatoes, mix well and pour over the browned meatballs in the pan.
Bring to a boil and cook covered on a low simmer for 1.5 hours or until the meatballs are fork tender and the sauce is thick.
For a thicker glaze type of sauce remove the lid for the last 15 min of cooking.
Season if necessary.