Recipe by Erin Eastland
Photos by Amy Sheridan
What happened to the lost art of the tostada? Used to love them as a kid, but since then we've noticed underwhelming support of this tasty taco plate at gatherings and dinner parties, alike. Is it, perhaps, because people grew tired of the inconvenience of eating it (a taco is much easier to grasp by hand)? Or has the nacho (essentially a broken up tostada) simply become the dominate game day snack? Or, rather, have people simply become bored with the basic flavors?
Whatever be the drawbacks, we're making moves to rejuvenate the tostada with a KO Ketchup kick. Remix the snack stand at your next game day and offer these mini tostadas. Easy to eat, packed with flavor, and a truly novel game day snack food.
KO Ketchup Tostada Recipe
Prep Time 10 minutes
Cook Time 20 minutes
Total Time 30 minutes
Ingredients
12 small corn

tortillas (or tostada shells)

3/4 cup canola oil

(if you are frying the tortillas)

2 Tbsp

olive oil

1 lb ground beef,

15% fat (don't go lean here, it won't be as good!)

1/2 onion,

small dice

1 poblano pepper,

small dice

2 cloves garlic,

minced

1 ear of corn,

kernals cut off

2 tsp.

taco seasoning

1/2 cup

K.O. Ketchup

4 Tbsp sour cream

or greek yogurt

1

lime

cilantro

to garnish

Directions
If you are making the tostada shells heat a wide heavy bottomed saute pan on medium heat.
Add the oil and heat to 350 degrees F., about 3-4 minutes over med high heat.
Test one tortilla by dipping the corner in to see if it begins to fry. If nothing happens your oil is not hot enough. If it begins to spit and bubble like crazy turn the heat down and wait a minute or two.
Fry the tortillas in batches so that they cook evenly.
Flip to crisp each side and don't overcrowd the pan.
Transfer the crispy shells to a paper towel lined sheet pan and season with salt.
Repeat until you have 12 shells.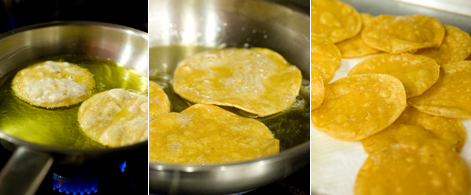 In another heavy bottomed saute pan heat the olive oil.
Saute the diced peppers and onion until soft but not browned.
Add the garlic and saute another minute or so.
Add the meat and break it up as it cooks with a wooden spoon or spatula until it is in very small pieces.
Once it is cooked add the taco seasoning and KO.
Cook another 5 minutes, add the corn and cook 5 more minutes.
Test for seasoning.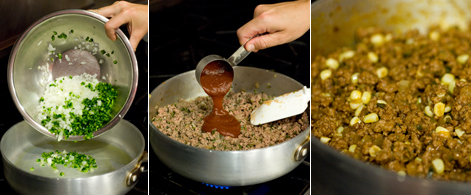 Use three shells per plate and top each with the seasoned meat.
You can serve them stacked or like three open faced tostadas.
Garnish with the sour cream, lime wedge and cilantro.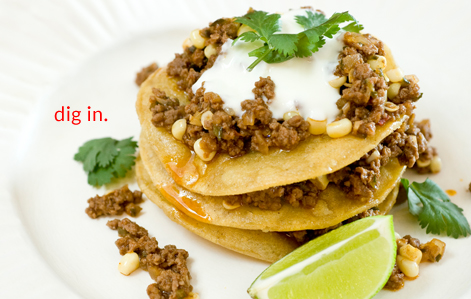 Enjoy right away!