Recipe by Erin Eastland
Photos by Amy Sheridan
Time to give your ribs a remix.
This rack of ribs recipe with K.O. Ketchup sauce is perfect way to bring a little bit of that sweet and tangy, chipotle flavor into your meal. If you want to go big, serve this up along side some Cube Artisan Foods Four Cheese Mac and Cheese or potato salad. Be sure to grab a pint of beer and a roll of paper towels because it's gonna get messy.
K.O. Ketchup Rack of Ribs
Prep Time 10 minutes
Cook Time 3 hours
Total Time 3 hours, 10 minutes
Ingredients
2 racks baby back ribs,

we suggest korabeta pork

2 cups

brown sugar

3/4 cup

salt

4 gallons

water

4 Tbsp.

olive oil

SAUCE

:

1 1/2 cups

K.O. Ketchup

3/4 cup cider

vinegar

1/2 cup

maple syrup

1/3 cup

molasses

2 tsp. chili

powder

1 tsp.

fresh thyme

1/2 cup

dark beer

4 Tbsp. cold

unsalted butter
Directions
In a large soup pot add the water, brown sugar, salt and ribs.
Bring to a boil, stir to dissolve the sugar and salt, turn down to a simmer and cook for 1 hour.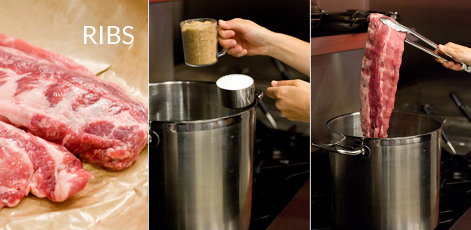 Preheat the oven to 300.
Make the sauce by adding everything for the sauce except the butter into a medium heavy bottomed saucepan.
Bring to boil.
Turn down to a simmer and cook until reduced, bubbly and thick (about 20 minutes).
Take off the heat, add in the cold butter and stir to melt.
Set aside.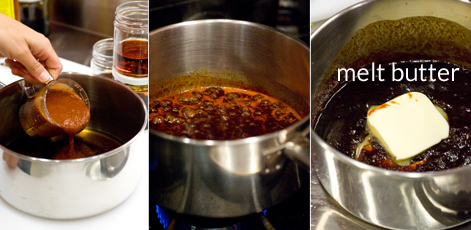 Take the ribs out of the cooking liquid, let the water drip off and transfer to a sheet pan – meat side up.
Coat both sides with olive oil and bake for 1 hour.
Take the ribs out of the oven and coat both sides liberally with the sauce.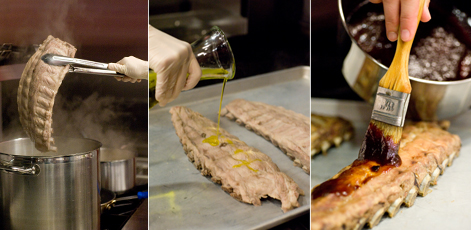 Continue to bake, again meat side up, another hour to an hour and a half.
The meat should be falling off the bone by now, so carefully coat with another thick layer of the remaining sauce.
Let rest about 10 minutes before serving.