Recipe by Erin Eastland
Photos by Amy Sheridan
Ok all of you bacon heads, time to see your favorite pork pal in a new light -and we suggest you toss aside the slabs because a hunk of bacon is just so much more fun. With beer, maple syrup and K.O., this bacon recipe has got all of the trappings for a nice masculine pre-meal treat. Keep in mind it's slow braised, so start it in the morning and have it ready by afternoon game time.
K.O. & Beer Braised Bacon
Prep Time 5 minutes
Cook Time 3 hours, 25 minutes
Total Time 3 hours, 30 minutes
Ingredients
1.5 lb slab of bacon

in one piece

1 Tbsp.

olive oil

18 oz. good dark

beer

1 cup

K.O.

1/3 cup

maple syrup

sprig

of rosemary
Directions
Preheat oven to 325 degrees.
Coat a medium heavy bottomed pot with the olive oil and place over med/high heat.
Sear the bacon, fat side down, until golden brown, about 5 minutes.
Flip and sear the other side.
Turn the heat down if it begins to smoke.
Remove the pan from the heat and let cool 1 minute.
Add the beer, maple syrup, K.O. and rosemary.
Stir to incorporate and bring to a boil.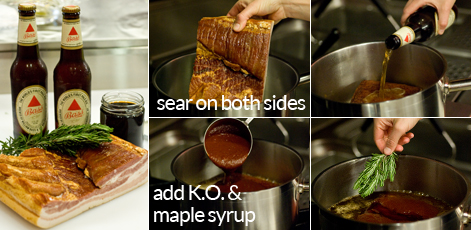 Cover tightly with a lid or aluminum foil and transfer to the oven.
Cook for 2.5 hours or until the meat is very tender.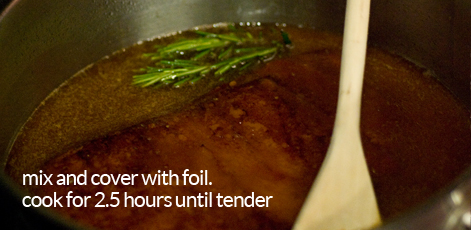 Carefully remove the bacon and transfer to a cutting board.
Bring the braising liquid to a boil and reduce by ½, skim off fat.
Season if necessary.
Serve the bacon sliced with the reduced braising liquid over polenta or any kind of creamy mash or shred and make the best pork slider you have EVER had. Goes great with a tangy, spicy slaw.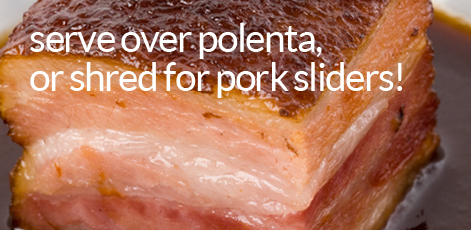 Enjoy!