Recipe by Erin Eastland
Photos by Amy Sheridan
Shrimp with butter and herbs? Snooze. Been there, done that. Try making your basic shrimp a little more zesty with the help of K.O. Ketchup. Not only are these bad boys wrapped in bacon, but they're covered in a zesty mango sauce that makes every bite a mouthful of wild flavors. These Bacon Wrapped Shrimp with Mango and Spinach are a quick, easy and healthy option for the kids yet sophisticated enough for a casual dinner party, too.
KO Bacon Wrapped Shrimp with Mango & Spinach
Prep Time 20 minutes
Cook Time 10 minutes
Total Time 30 minutes
Ingredients
10 fresh U/15 tiger

shrimp (about 3/4 lb)

1 lb

baby spinach

3 hatch

peppers

1/2 ripe mango, peeled and diced

into 1/2 inch cubes

2 cloves garlic,

peeled and cut in half

4-5 thin slices

of smoked bacon

1 cup

K.O. Ketchup

2 Tbsp

cold butter

4 Tbsp

olive oil
Directions
Preheat oven to 400 degrees F.
Place the peppers directly over the open flame on your stovetop and char until almost completely blackened. This will take about 5-6 minutes.
Remove and place either in closed paper bag or in a small bowl wrapped tightly with saran wrap. This will steam the peppers and make them easier to peel.
Let steam for 10 min.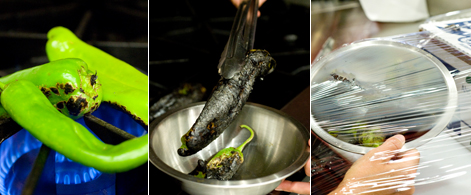 While that is happening, peel and devein the shrimp (or if they are already done, great).
Lay the bacon out on a cutting board and slice each piece into thirds.
Place the shrimp across bacon and wrap it around at an angle to cover the whole shrimp and stay sealed.
Thick cut bacon will not work for this, as it will unwrap when you try to sear it.
Place the shrimp in the fridge until you are ready to cook them.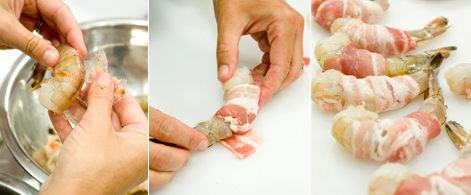 Make the sauce.
Peel the charred skin off the peppers, remove the seeds and rough chop.
Heat K.O. in a small saucepan until just boiling.
Remove from the heat and stir in the cold butter.
Transfer the sauce and peppers to a blender and blend until smooth.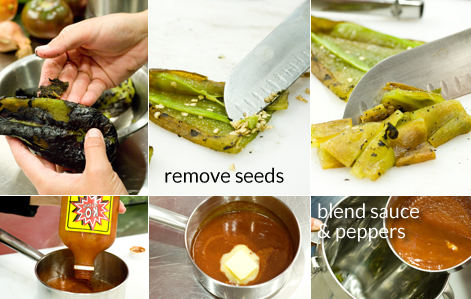 Heat a large saute pan with 2 TBS olive oil and lightly brown the garlic.
Add all the spinach at once and turn to high heat.
Saute the spinach until cooked (about 3-4 minutes), turning the greens with tongs, season and keep warm.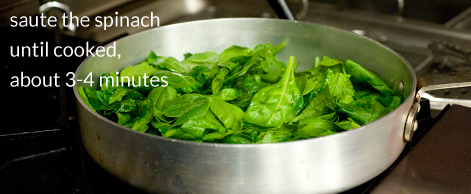 Heat a large cast iron pan until almost smoking.
Add the olive oil and sear the wrapped bacon on one side about 3 minutes, allowing it to brown.
Turn each shrimp, brush liberally with the sauce and transfer to the oven for 5-6 minutes or until the shrimp and bacon are cooked through and the sauce is bubbly.
*Do not overcook or it will be rubbery. This is another reason for the thin cut bacon.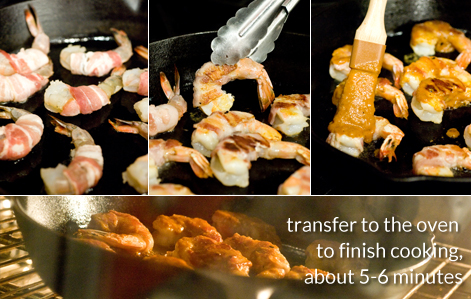 Serve the shrimp over the bed or warm spinach and top with the sweet mango.
You will have extra sauce so save it for chicken or pork on the BBQ!