KO Rally Car Racing Team UPDATE!
Hey everyone, just wanted to let you know that Sarkis and the K.O. Rally Team just won our class this year in the California Rally Series when we took 1st place at the Prescott Prix on Sept 29th. The last 5 months have been awesome and we look forward to taking home the 'W' in the next round, too.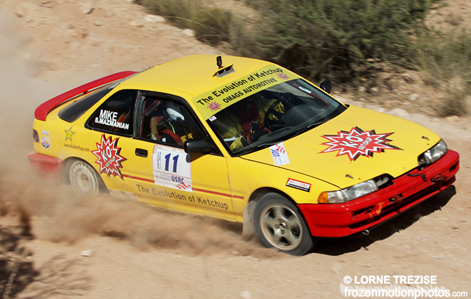 Stay tuned for more details on the K.O. Rally Team and where you can catch them next.
---
july 3, 2012
Sure, here at K.O. Ketchup we are heavily invested in quality ingredients, fresh food and great recipes, but we have other interests too… like Rally Car Racing! There's something awesome about the chaotic nature of it all. No need for clean tracks and pristine vehicles in this sport, it's sort of a 'make of it what you will' game. Less about orchestrated action and more about improvisation, reflex and gut instinct. We like that.
So, we thought why not get together a rally car team of our own. That's when we found Sarkis Mazmanian, a Amerenian born in Bulgaria who came over to America at the age of 22 and learned everything he knows from his father -a Balkan Rally Champion. Since April, Sarkis has been helming our Performance Stock class K.O. Ketchup rally car and prepping for this season of the California Rally Series.
Seen below are pictures of the stripped and souped Acura Integra in its second race on the California Rally Series circuit in Boise, Idaho last June. Sarkis ended up nabbing 1st place with a huge victory for K.O. Ketchup landing a whopping 564 total points.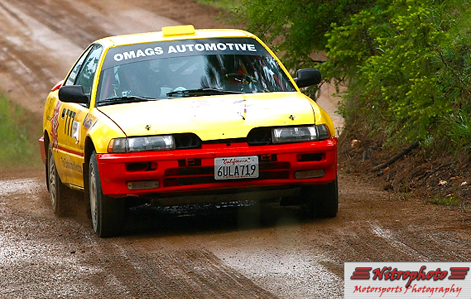 But we're not just sticking to a single class, we want to build a team. In addition, K.O. is also working on a car to race in the Open Class circuit in the coming season. Jimmy Henry – also the son of a long time rally car racer in the 70s and 80s- will man a 2003 Subaru WRX which is currently being stripped and acid dipped in Santa Ana then shipped to Murrieta, CA where we'll be installing a 12 point, custom made roll cage. In the meantime, we'll be rebuilding the engine and throwing together Full Open all wheel drive and a CRS rally build. Basically, we're getting this bad boy in fighting shape. We are hoping to have this ready to race by the beginning of the 2013 CRS season as well as the NASA rally series.
Stay posted for more info updates on the K.O. Ketchup Rally Car team!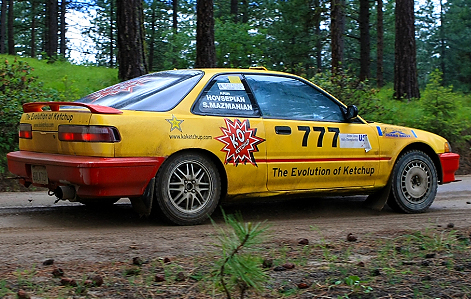 PS – If you live in or around Nevada and are interested in catching the next race it will be held in Lovelock, NV on July 6th and 7th. For the remaining schedule of races including stop offs in Mendocino and Frazier Park, California as well as Prescott, AZ click here.