Recipe by Erin Eastland
Photos by Amy Sheridan
No, you can't go wrong with a bean and cheese dip… but you can go extraordinary. Next time you've got the guys on the couch awaiting some game time snacks, set a few bowls of this KO Ketchup infused Bean and Cheese Dip down and wait. At first they'll be appreciative, sure, but the truth is, they've had it many a time before. The real treat comes when they scoop up a mouthful with one of your homemade chips and feel the kick when the dip hits their tongue. It's a subtle but welcomed surprise.
And can you imagine their delight when it's accompanied by a pile of KO Ketchup Chicken Wings!
KO Beans and Cheese Dip
Prep Time 20 minutes
Cook Time 15 minutes
Total Time 35 minutes
Ingredients
KO

BEANS:

2 cans pinto beans,

drained

1/2 serrano chili,

small diced (seeds optional if you like spicy)

1/2 cup onion,

small dice

2 cloves garlic,

minced

1/2

cup K.O. Ketchup

2 Tbsp

olive oil

CHEESE

SAUCE:

3 oz. each of

sharp cheddar, monterey jack and velveeta cheese

1/2 cup onion,

small dice

1/2 small jalepeno, small dice

seeds removed

1/2 small frenso chili,

small dice seeds removed

1/2 serrano pepper,

small dice seeds removed

2 Tbsp

butter

3 Tbsp

flour

1 cup

whole milk

1 Tbsp

chopped fresh cilantro

1 small heirloom tomato,

diced

3 Tbsp

sour cream

CHIPS

:

12 corn

tortillas
Directions
Preheat oven to 375
Arrange the tortillas on a sheet pan, do not overlap.
Bake for 10-12 minutes until crispy.
Season with salt and let cool.
Break them into chip-sized pieces.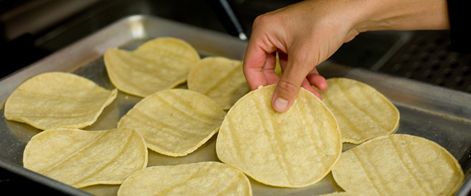 Make the beans
While the chips are baking, heat a medium sauce pan.
Add the olive oil, onions and peppers.
Cook until soft but not browned.
Add the garlic, cook another minute and add the beans and K.O. Ketchup.
Cook about 10 minutes, stirring often.
When beans are heated through and sauce has come to a boil use the back of a spoon to smash about ½ of the beans.
This will thicken it up and create a refried beans texture.
Pour the beans into the bottom of a glass serving dish such as a pie pan or square brownie pan.
Keep warm.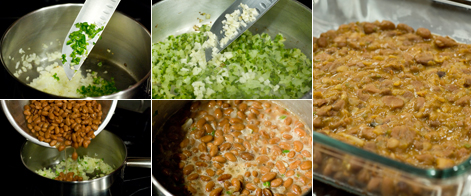 Make the cheese sauce
In a medium heavy bottomed saucepan heat the butter.
Saute the onions, peppers and garlic until soft but not browned.
Add the flour, cook about 2 minutes stirring continuously and whisk in the milk.
Whisk often until the mixture comes to a boil and thickens.
Add the cheese and stir with a spoon until melted. Stir in the sour cream, tomatoes and cilantro.
Pour over the warm beans.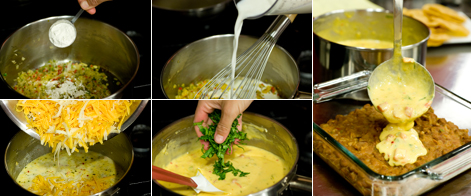 Serve with the baked tortilla chips.