Recipe by Erin Eastland
Photos by Amy Sheridan
Tired of Franks Red Hot? Sure, sometimes we like a good spice, but if you're tired of profuse sweating, wiping snot from your nose and pounding a quart of milk after every bite, we suggest you try giving your wings a new, slightly milder twist. Instead of opting for the overbearing heat, add some variety to your chicken with these tangy sweet, slightly spicy chipotle K.O. Ketchup sauce.
K.O. Ketchup Chicken Wings
Prep Time 10 minutes
Cook Time 40 minutes
Total Time 50 minutes
Ingredients
WINGS

:

3 lbs

wings

3 Tbsp.

olive oil

1 tsp.

salt

cracked

pepper

8 cups peanut

or canola oil

GLAZE

:

1 cup homemade

chicken stock, or store bought low sodium

1/2 cup

cider vinegar

1/4 cup

pure maple syrup

1 cup

K.O. ketchup

1/3 cup

fresh orange juice

1/4 cup

cold butter
Directions
Preheat oven to 375.
Prepare the wings
If the wings are not already prepared, cut them in half at the joint and remove the wing tips. You can ask your butcher to do this for you. Reserve the tips for stock or soup.
Coat the wings in the olive oil, salt and pepper and roast on a sheet pan for 30 minutes.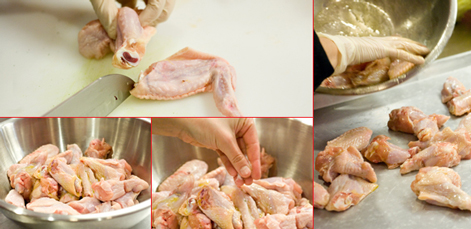 While the wings are cooking start to heat the oil in a heavy bottomed pot to 325 degrees.
Make the glaze
Add the stock, vinegar, syrup, K.O. and orange juice to a small heavy bottomed pot.
Bring to a boil and then a simmer until reduced by ⅔ and the liquid is thick, shiny and bubbly.
Remove from the heat and stir in the cold butter.
Set aside.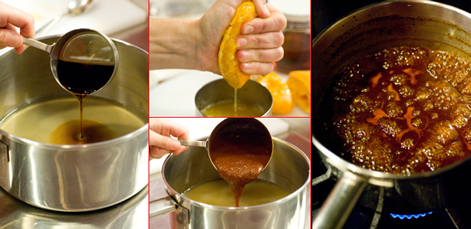 Once the wings are done in the oven fry them in two or three batches (depending on how deep your pot is) for 5 minutes at a time. You do not want to overcrowd the pot or it will boil over.
Transfer the cooked wings to a paper towel lined sheet pan.
Once they are all crispy and golden brown toss them in a large bowl with desired amount of glaze.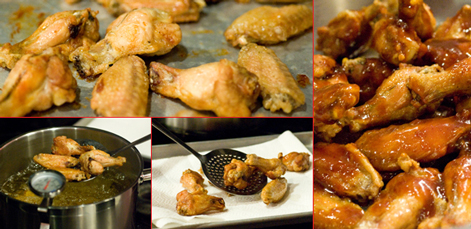 Enjoy!